NRCS would like to request you to take part in the photo competition and creative works on the occasion of it's 58th Annual Day.
Rules for photo competition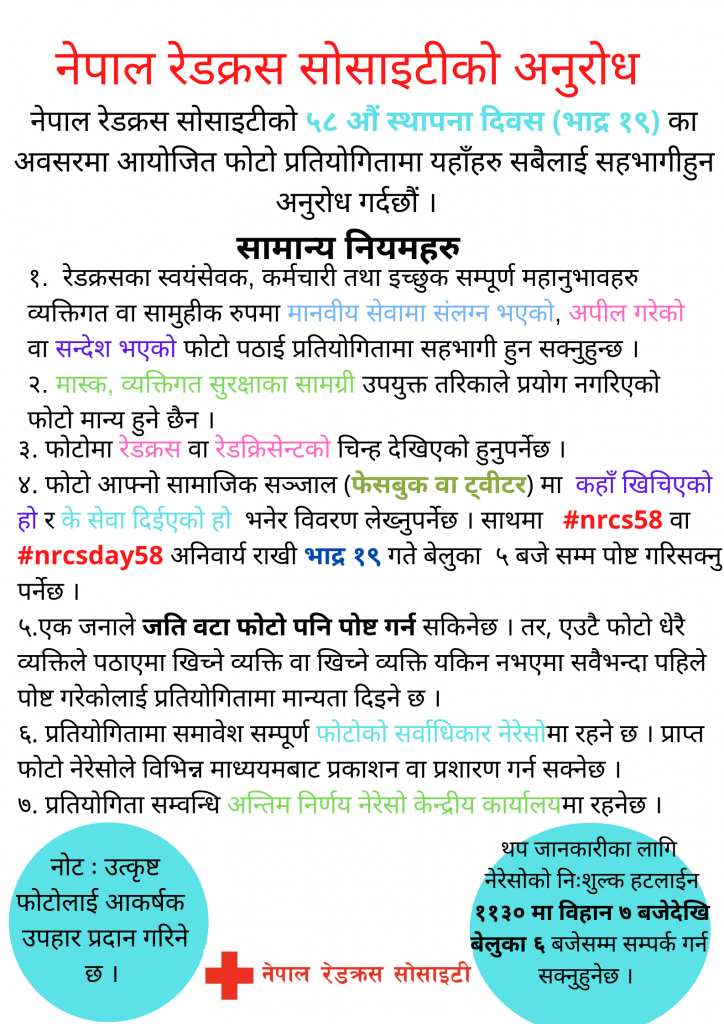 The photo can be individual or group related to RC Movement.
The photos should show actions or appeal or message or engagement in RC action.
The photo without the proper use of a face mask will not be accepted. Photos should have Red Cross emblem/logo.
Photos should have a short caption (who, where and what) with

#nrcs58

or

#nrcsday58

.
An individual can post multiple photos in a different time.
The photo should be posted on their own Facebook or Twitter page between 24 August to 4 September no later than 17:00 hours
NRCS can use the photos for promotion in different forms. 
Best photos will be awarded.
Rules for the creative works
Genre: Story, poem/song, art, oratory, audio or video
General rules: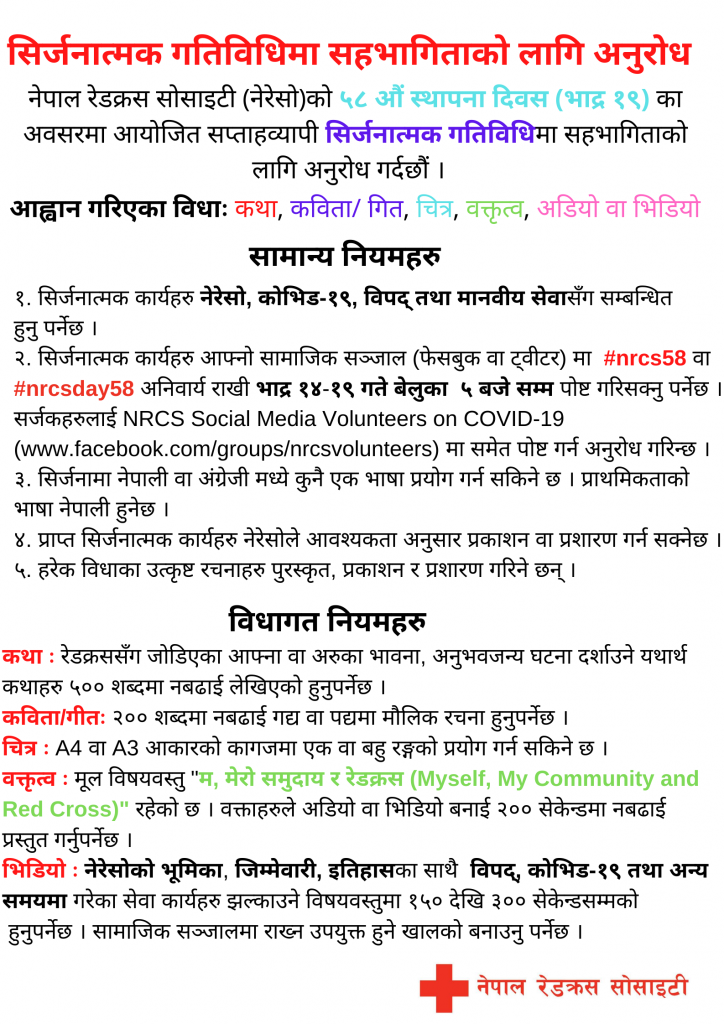 The creative works should be related to NRCS, COVID-19, disaster and humanitarian service.
Nepali or English language can be used as per need.
NRCS can use those creative works for publication and dissemination.
Best creation in each genre will be awarded separately. They will be published through different channels.
Creative works should be posted individually in their post with

#nrcs58

or

#nrcsday58

within 4 September by 17:00 hours. The creators are encouraged to post the creation in the page: NRCS Social Media Volunteers on COVID-19 (https://www.facebook.com/groups/nrcsvolunteers/)
An independent panel of the judge will be formed for evaluation for each genre.
Specific rules:
Story: Inspiriting individual stories within 500 words (preferably in the Nepali language).
Poem/song: Inspiriting individual stories within 200 words (preferably in the Nepali language) in verse or blank verse.
Art: The art can be done in A4 or A3 size with single or multiple colour.
Oratory: The subject for the audio or audio-video is" Myself, My Community and Red Cross " not more than 200 seconds. 
Video: The subject for the video is "NRCS role, history, performance and its services during disasters, COVID-19 and other situations" limited between 150-300 seconds.